Timber Columns Restoration Project
Haldane UK has demonstrated its breadth of timber machining expertise with the restoration of 8 timber columns for the entrance to a Victorian property in Aberdeen.
The existing columns were showing severe signs of rotting and were compromising the structural integrity of the entrance area.
Haldane manufactured the timber columns from D30 structural grade American White Oak which is kiln-dried to deliver an 11% moisture content.
To deliver the size of the 250mm diameter columns which tapered down to 210mm, Haldane laminated up smaller blocks of American White Oak with additional screws and dowlings for additional strength.
The components were then turned in Haldane UK's 24,000 sq facility in Scotland before being installed on-site and primed by their in-house installation team.
Haldane is one of the UK's largest industrial woodturners with its unique capability to turn sections of timber up to 1900mm in length and up to 500mm in diameter.
However, their experience and expertise in specifying timber to suit the environment and usage of each projects were instrumental in delivering the optimum solution.
Haldane UK's Managing Director, Forrester Adam, explained "Woodturning has been a core solution throughout our 70 year history from the days where we used to manufacture spinning wheels and components. Our experience and machining capacity is one of the largest in the UK and has enabled us to manufacture large woodturnings for projects such as Euro Disney, Bluewater Shopping Centre and major hotel contracts across the UK."
He continued, "Iroko is normally specified for external projects, however D30 structural grade Oak is actually one of the most durable timbers on the market. But as with any external timber application, the finished product will need to be correctly treated and maintained to protect the timber and maintain structural strength."
Click here to find out more about our woodturning capabilities now or contact us 01592 775656.
Wooden Columns Create Stunning Entrance
Haldane has demonstrated its woodturning expertise by turning these solid wooden columns measuring in at 1900mm in length and 260mm in diameter.
The columns were manufactured from American White Oak and set into profiled metal brackets and located at the main entrance of a luxury home in Scotland.
Haldane is one of the few companies in the UK capable of turning components to this size. Its ability to turn components to a maximum of 1900mm in length and up to 500mm in diameter.
For more information on our woodturning services visit www.woodturners-uk.co.uk or see more timber columns
2.9 METRES TIMBER COLUMNS TURNED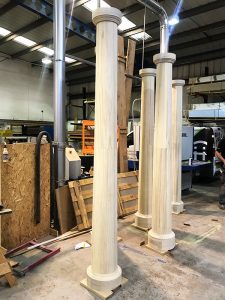 Haldane UK has manufactured and supplied the largest
solid timber columns
it has produced in its 75 year history as a specialist woodturner.
Measuring 2955mm in length and 400mm diameter in width at its largest point, the tapered Accoya columns were expertly turned in two sections before being jointed prior to despatch.
The company manufactured eight of the timber columns in total with 4 measuring 2955mm in length and a further 4 measuring 2810mm.
The longer of the solid timber columns tapered from 314mm to 223mm with profiled capitals measuring 400mm in diameter.
Haldane UK's Managing Director, Forrester Adam, commented "Whilst we are able to turn solid columns up to 1900mm in one section, we can manufacture and supply much larger components using our timber machining experience. "
He continued, "We are seeing a real growth in demand for Accoya, particularly for external projects, thanks to its outstanding durability and its improved stability, which has seen TRADA state that the timber has a 70 year minimum service life."
Accoya Timber Columns
Haldane UK has demonstrated its experience and expertise in timber technology by manufacturing Accoya timber columns for the refurbishment of a Victorian property.
The columns taper from 200mm diameter to 150mm with bespoke 250mm turnings fitted to each end to achieve a finished size of 2.2metres.
Accoya Timber is a modified softwood which offers outstanding durability and stability to rival or exceed the best tropical hardwoods.
Its unique properties can reduce swelling and shrinkage by over 75% whilst offering superior resistance to UV degradation – making it ideal for exterior use, especially for projects requiring a paint finish.
And from a machining perspective, the consistency of quality and the stability throughout the timber, makes it an excellent material to work with.
As an Accoya Approved Manufacturer, Haldane UK has received the required training by Accoya to help guarantee high-quality products for end users.
Large Wooden Column
Haldane has demonstrated its unrivalled ability to manufacture large wooden columns with its latest project for a gallery in Mayfair, London where it produced two split hollow timber columns measuring 3000mm and 3500mm in length.
The columns measured 610mm and 200mm in external diameter respectively and were manufactured in FSC® Sapele and machined to a 25mm thickness.
Click here to find out more about timber column sizes together with our timber columns solutions or contact us now to discuss your requirements.
Bespoke Handrails for Shopping Centre
Main contractor: Bovis Europe
Architect: Eric Khune Associates; Benoy
Developer: Lend Lease Corporation
Quantity Surveyor: Cyril Sweett
The Bluewater Shopping Centre is the epitome of quality in its design and workmanship, and the bench mark to which all future developments, whatever their size, will be compared.
Developers, the Lend Lease Corporation were vehement on the high level of quality that should be presented, from the polished marble floors, to the sculptural balustrading, to the shop fronts and barrel-vaulted roofs.
Split into three malls, each carrying its own theme, Haldane UK, the market leader in specialist wood products, demonstrated its proficiency in the manufacturing and installation of the timber balustrading, cladding and specialist wood products, such as the eye-catching lamppost structures.
The spectacular wrought iron balustrades in the East Mall, entitled Rose Walk, are complemented with stunning maple handrails. The West Mall's, boutique/West End feel is reflected in the 70mm American Cherry handrails with a stunning array of wreaths, ramps and spiral handrails.
The full extent of Haldane's skills have been put to the test in the requirements for the South Mall, which contains a nautical theme and fitted out in American white oak.
The striking 120mm x 70mm handrail is only the start of the Haldane influence.
The timber cladding of steel balusters, the boat shaped staircases and the spectacular lamppost columns are the key features of the mall which takes precednce over all other in the centre oozing with quality and excellence.