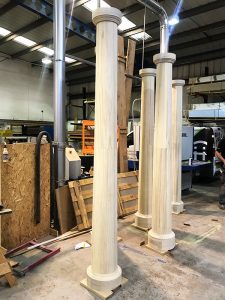 Haldane UK has manufactured and supplied the largest
solid timber columns
it has produced in its 75 year history as a specialist woodturner.
Measuring 2955mm in length and 400mm diameter in width at its largest point, the tapered Accoya columns were expertly turned in two sections before being jointed prior to despatch.
The company manufactured eight of the timber columns in total with 4 measuring 2955mm in length and a further 4 measuring 2810mm.
The longer of the solid timber columns tapered from 314mm to 223mm with profiled capitals measuring 400mm in diameter.
Haldane UK's Managing Director, Forrester Adam, commented "Whilst we are able to turn solid columns up to 1900mm in one section, we can manufacture and supply much larger components using our timber machining experience. "
He continued, "We are seeing a real growth in demand for Accoya, particularly for external projects, thanks to its outstanding durability and its improved stability, which has seen TRADA state that the timber has a 70 year minimum service life."