Haldane Complete Restoration of 19th Century Timber Corbel
Haldane UK has shown exactly why it's recognised as the UK's leading architectural joinery company by using its state of the art laser surveying equipment and 5 axis CNC technology to recreate intricate carved spindles with a corbel effect.
The client had originally contacted Haldane for part of the contract and was looking for an aspect to be hand carved, however after discussing the project and sending a photograph of the existing component, the Haldane team confirmed that the level of detail could be machined in a fraction of the time.
Haldane's laser surveying technology enabled the sample component to be digitally profiled in a matter of hours to extraordinary detail, before being passed for programming and tooling.
The machining team then carried out a number of sample tests to perfect the process and finishing before progressing with the order of 60 units.
Haldane UK's Managing Director, Forrester Adam, explained "We have now completed a number of projects where we have been required to recreate the intricate carvings of timber components, including the work we carried out in the restoration of Windsor Castle."
He continued, "This latest project was the first time we were able to use our laser surveying technology to establish a new level of details which can be passed to our programming team. By breaking down the component we were able to machine the corbel section with the 5 axis CNC machines, whilst the fluted spindles section was turned."
For more information on the timber machining solutions offered by Haldane visit www.haldaneuk.com or call 01592 775656.
2.9 METRES TIMBER COLUMNS TURNED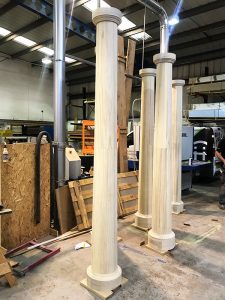 Haldane UK has manufactured and supplied the largest
solid timber columns
it has produced in its 75 year history as a specialist woodturner.
Measuring 2955mm in length and 400mm diameter in width at its largest point, the tapered Accoya columns were expertly turned in two sections before being jointed prior to despatch.
The company manufactured eight of the timber columns in total with 4 measuring 2955mm in length and a further 4 measuring 2810mm.
The longer of the solid timber columns tapered from 314mm to 223mm with profiled capitals measuring 400mm in diameter.
Haldane UK's Managing Director, Forrester Adam, commented "Whilst we are able to turn solid columns up to 1900mm in one section, we can manufacture and supply much larger components using our timber machining experience. "
He continued, "We are seeing a real growth in demand for Accoya, particularly for external projects, thanks to its outstanding durability and its improved stability, which has seen TRADA state that the timber has a 70 year minimum service life."
Accoya Timber Columns
Haldane UK has demonstrated its experience and expertise in timber technology by manufacturing Accoya timber columns for the refurbishment of a Victorian property.
The columns taper from 200mm diameter to 150mm with bespoke 250mm turnings fitted to each end to achieve a finished size of 2.2metres.
Accoya Timber is a modified softwood which offers outstanding durability and stability to rival or exceed the best tropical hardwoods.
Its unique properties can reduce swelling and shrinkage by over 75% whilst offering superior resistance to UV degradation – making it ideal for exterior use, especially for projects requiring a paint finish.
And from a machining perspective, the consistency of quality and the stability throughout the timber, makes it an excellent material to work with.
As an Accoya Approved Manufacturer, Haldane UK has received the required training by Accoya to help guarantee high-quality products for end users.